11 Plus Seals
The 11 Plus Guide is the only truly independent guide for parents thinking about moving their child into a selective school at the end of the primary stage.We offer help and advice on lots of aspects from choosing the right school to choosing the right route for preparation for the exam.
As part of that advice we have chosen to feature a number of providers be they schools themselves or tutors or publishers. We are quite happy for tutors or schools or publishers to display their inclusion in The 11 Plus Guide by either using one of our seals or using the text provided. The seals are generic, the text tends to be more specific. Providers can choose to use either the seal ( at a size to suit their needs, or the generic text we have provided, or a more specific text which we have also provided).
Any questions or problems simply use the contact box below.
Image Links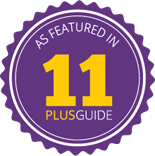 Large Badge
<a href="http://www.11plusguide.com/" title="11 plus Guide"><img src="http://www.11plusguide.com/wp-content/uploads/2015/02/seal-large1.png" alt="11 plus Guide" width="150" height="155" /></a>

Medium Badge
<a href="http://www.11plusguide.com/" title="11 plus Guide"><img alt="11 plus Guide" src="http://www.11plusguide.com/wp-content/uploads/2015/02/seal-m1.png" width="100" height="103" /></a>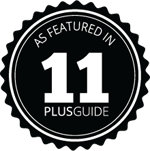 B & W Large Badge
<a href="http://www.11plusguide.com/" title="11 plus Guide"><img src="http://www.11plusguide.com/wp-content/uploads/2015/02/seal-large.png" alt="11 plus Guide" width="150" height="155" /></a>

B & W Medium Badge
<a href="http://www.11plusguide.com/" title="11 plus Guide"><img alt="11 plus Guide" src="http://www.11plusguide.com/wp-content/uploads/2015/02/seal-m.png" width="100" height="103" /></a>
Text Links
Featured in the 11 Plus Guide
<a title="11 Plus Guide" href="http://www.11plusguide.com" target="_blank">Featured in the 11 Plus Guide</a>
Featured in the 11 Plus Tutors Guide
<a title="11 Plus Tutors Guide" href="http://www.11plusguide.com" target="_blank">Featured in the 11 Plus Tutors Guide</a>
Featured in the 11 Plus Mock Exams Guide
<a title="11 Plus Mock Exams Guide" href="http://www.11plusguide.com" target="_blank">Featured in the 11 Plus Mock Exams Guide</a>
Featured in the 11 Plus Resources Guide
<a title="11 Plus Resources Guide" href="http://www.11plusguide.com" target="_blank">Featured in the 11 Plus Resources Guide</a>
Featured in the 11 Plus Grammar Schools Guide
<a title="11 Plus  Grammar Schools Guide" href="http://www.11plusguide.com" target="_blank">Featured in the 11 Plus Grammar Schools Guide</a>
Featured in the 11 Plus Independent Schools Guide
<a title="11 Plus Independent Schools Guide" href="http://www.11plusguide.com" target="_blank">Featured in the 11 Plus Independent Schools Guide</a>
Embed Instructions
Copy the code that is most suitable for your site from above
Open a HTML ready website or blog page
Paste the code in the correct place that suits your site best